1. Click on the Settings button on the left side menu; 
2. Choose the Worksheets option; 
3. Use the tab Not Evaluated to find the pending question on the list below - you can use filters such as teams, spaces, sections, content or simply searching for the user's Name;
4. Click the Evaluate button in the right corner;
5.  Select between Correct or Wrong for all pending questions;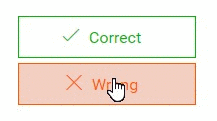 6. Click Save.